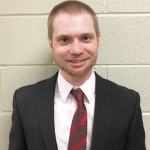 Submitted by BCS Communications
The Berlin Central School District (BCSD) welcomes Mr. Tom Olsen to its Administrative Team. Mr. Olsen joins BCSD as the new Director of Pupil Personnel Services.
Mr. Olsen has had a busy month at BCSD, working alongside the Summer Academy staff and attending administrative meetings as well as Board of Education meetings. It has been a wonderful opportunity for Mr. Olsen to learn as much as he can about the district as he prepares for the coming 2023-2024 school year.