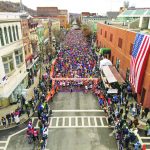 First Marriage Proposal
Submitted by Ed Parham
On a day set aside for Capital Region families to gather and give thanks, 6,641 participants from 33 states and six nations descended upon the Collar City for the 76th running of the Troy Turkey Trot, America's 12th oldest road race.
The event, presented by Pioneer, began at 8 am, with the Capital Region's only Thanksgiving Day 10K. Tackling the traditional out and back course were more than 1,200 participants, many of whom run competitively for local track and field clubs. James Withers of Utica, NY outpaced his rivals to win the title in 30:31 and earned a $300 first place prize in the process. The first female across the line was Karen Bertasso Hughes of Selkirk, NY, who also earned a $300 payday with a winning time of 36:15.