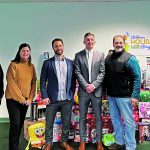 Submitted by Unity House
 On Monday, November 27th, Unity House launched its annual Children's Holiday Program, and highlighted the ways families can benefit from the generosity of community members who support the program through donations of cash and gifts. At the Unity House Holiday Store, parents can select gifts, at no cost, to suit their own children's interests and needs.
The event featured Constant Louis, a stepfather whose children received gifts through the program in 2022, and Cassie Prugh, a longtime individual donor who this year will adopt 35 children by purchasing gifts for them. Both individuals talked about the importance of the program in helping children have a joyful holiday.