New Christmas Song, "Mrs. Claus," to Premiere,
November 29, 2020
Luke McNamee and Josh Greenberg, (also known by their stage names as SaxoClaus and the Elf) have written produced and are digitally distributing a new Christmas song entitled, "Mrs Claus," that they say acknowledges the strength of women in keeping us all together, especially during the Holidays.
On Sunday, November 29, 6 – 8 PM at Nanola's, 2639 U.S. 9, Malta, NY 12020, The World Premiere airplay of their new song, "Mrs. Claus," will be held at a song release event for all of the performers and engineers who contributed their talents to the recording. Dinner will be served at no charge, cash bar.  There will be a Sing A Long and cake.  Guests are also welcomed and must reserve a spot by contacting Nanola's at 
nanolaevents@gmail.com
.  The song, "Mrs. Claus" will be available on all digital music streaming platforms such as Spotify, Amazon Music, Google Play, ITunes, Apple Music, etc. on Thanksgiving Day!  SEARCH: SaxoClaus.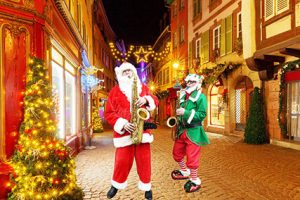 Luke McNamee developed the character SaxoClaus 25 years ago and has entertained Capital Region residents with his spirited renditions of Christmas Pop Music and Christmas Carols.  He was joined by Josh Greenberg (the Elf) ten years ago.  Together, the two have a street act that rivals any New Orleans band.
 The Origin of the Mrs Claus Song
Behind every song lies a story and the new song "Mrs Claus" written by Luke McNamee and Josh Greenberg is no exception. As a matter of fact, it has a sweet story.
It was a cold, snowy night in early December and Luke, who portrays himself as SaxoClaus was driving through the snow to play his saxophone for a group of seniors at a local nursing home. The wind and snow were fierce that night. The journey took longer than usual and by the time Luke arrived he was quite shaken from the ride but ready to perform. His red suit was covered with snow, which was now melting as he played his opening number.
After finishing the first song, he introduced himself as SaxoClaus and told them that he was going to play a song about a red nosed reindeer, another about a jingling bell, he even bragged about one that told the story of a snowman and of course he had plenty of Santa Claus songs. Then without even thinking about it he exclaimed "I'll even play one about Mrs Claus." He stopped in his tracks realizing that he had misspoken. There was nothing to do but chuckle as he said, "Sorry folks there is no song about Mrs Claus." It was then that a sweet 90-year-old woman looked at him and said, "Santa, that's not right! Mrs Claus should have a song for her, think of all the things that she's done for you over the years. Every Christmas she makes sure things run right and on time. If she doesn't have a song already, you should write her one." A lightbulb went off in Luke's head after hearing her words and they stuck with him while he finished his performance.
The snow and wind accompanied him on the way home but all he could think about was what that sweet lady had said. It made Luke think about his wife and all that she does at Christmas time, how she really makes it all come together and maybe does not get the credit she deserves. He decided right then and there that he was going to make it his goal to produce a song for "Mrs Claus."

Over the next few days, he wrote down some lyrics and after he had a rough draft, he showed the words to his musical partner Josh Greenberg, who performs saxophone duets with him dressed as his Elf. Josh took the rough lyrics, polished them up a bit and began to craft melodies and harmonies that would bring these words to life.
Josh Greenberg's abilities as a music producer stem from 35 years as an elementary music educator, and his experience as Composer/Director/Producer of The Mother Goose Jazz Band, a family entertainment group that brings jazzed up nursery rhymes to children and families in CDs and Live performances. His music has won awards from The American Library Association, The International Association of Jazz Educators, and Family Life Magazine.  With "Mrs. Claus," he was the driving force behind scoring the music and rehearsing the band and vocalists. His attention to detail coupled with his musical knowledge and intuition made him vital to the project. The song, "Mrs Claus," is a creation by two friends and musical partners who share a love of music, especially Christmas music.

This Christmas season Luke and Josh hope not only to entertain folks all over the world with their composition "Mrs Claus" but also to inspire people to take a moment to look at their wife, mother, grandmother, sister and daughter and thank them for everything that they do, not only at Christmas but all year long. Because, as we now know by listening to the song, "there would be no Christmas without Mrs Claus."