Burke, New York – Richard "Dick" Johnson, 84, was born on January 8, 1937 in Bellmont, NY. He was the son of Ernest and Leola (Whittemore) Johnston.
He was married to Frances VanKirk on June 27, 1959 in Levittown, PA. She predeceased him on February 6, 1998. He then married Sally DeShane on October 20, 2001 in North Burke Church by Pastor Keith Smith.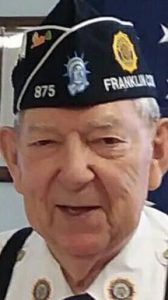 Dick enlisted in the United States Army in 1955 and after 20 years of honorable service, he retired as Rank E8 Master Sergeant. He was very active in the American Legion Organization, serving as past commander of John E. Harrica Post #875, Chateaugay. He was also an active member of the Honor Guard and the Firing Squad. He served as NYS Franklin County Commander, 4th District Commander (Wagon Master), Adjutant and Historian, 3rd and 4th District Department Vice Commander, personal aide to the NYS Department Commander, as well as a member of 40-8 and ANAVICUS, Army, Navy and Air Force Veterans in Canada and the United States.
Upon his return, he worked for the McCadam Cheese Plant for 20 years before retiring and served for 20 years as an assessor for the Town of Burke. Dick was active in the North Burke Church. He was a member of the Frontier Lodge 517 Free and Accepted Masons and served as a past Master. He was a patron of the Frontier Chapter #203 Order of the Eastern Star and a district grand lecturer. Dick was very active with starting the youth programs in the Town of Burke. His greatest love was for his family.
Dick is survived by his wife of 19 years, Sally; children, Karen and Kevin McDonald, Richard Johnston Jr., Kimberly McMillan, Marianne and Dean Meacham, Nanci and Herman Downer, Keith and Carrie Johnston; grandchildren, Kristina, Jason, Jordan, Travis, Nathan, Emily, Becky, Dottie, Rachael, Rebecca, Dean Jr., Cory, Kaylie, Mackenzie, Riley, Daryn, Allisyn and Jacob; and many great-grandchildren; a sister and brother-in-law, Eleanor and Bob Quigley; in-laws, Donna Johnston, Edith Johnston, Nancy Andrusko, Alfred (Carole) VanKirk, Richard, Jerry, Edward and David (Marlys), Robert (Hazel) and Janice DeShane; as well as several nieces and nephews.
Besides his first wife, he was predeceased by his parents; brothers, Calvin, Gordon "Sandy," Robert, Everett and Donald; and sister, Mary Jean Selkirk; a great grandson, Tucker; and a son-in-law, Robert McMillan.
Calling hours were held at the Chateaugay Funeral Home on Monday, March 8 and Tuesday, March 9.
A funeral service was held at the North Burke Church, Burke on Wednesday, March 10 with Brian Dwyer officiating. 
Spring burial will be held in Sandy Knoll Cemetery, Chateaugay.
Donations in Dick's memory may be made to the American Legion John E. Harrica Post #875, Frontier Lodge 517 Free and Accepted Masons and Frontier Chapter #203 Order of the Eastern Star.
Arrangements are with the Chateaugay Funeral Home. Online condolences may be offered at www.chateaugayfuneralhome.com.