Stephentown – Phyllis Knowlton Hyde Howard, Age 89, a longtime resident of Stephentown, NY, passed away peacefully at home on February 8, 2021 with her daughter Allison and her two cats by her side. She was the beloved wife of 30 years of her late husband, Norris Howard, who passed away in 1995.
Born in Malone, NY, the younger of two children, Phyllis was the daughter of the late Archie William Hyde and Gladys Knowlton Hyde.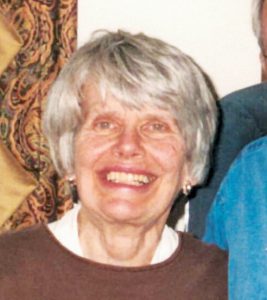 Phyllis received her B.A. from Smith College in Northampton, MA and her M.Ed. from St Lawrence University in Canton NY. She worked as a teacher in Boston before marrying Norris and moving to the Darrow School in New Lebanon, NY, in 1965, where Norris taught English. They adopted their daughter Allison in June of 1969. Phyllis had many interests and activities that she loved throughout her life. She was an amazing cook and delighted in preparing sumptuous meals for family and friends, of which she had many. Ice cream was a must have at the end of every meal, a love that endured throughout her life. Phyllis was an active member of The Church of Our Saviour in Lebanon Springs, NY and was truly devoted to the service of others. She was a long-time driver for "Meals on Wheels" and taught reading through Literacy Volunteers of America. Phyllis also enjoyed being part of a choir group in Pittsfield, MA for 30 years.
Phyllis' favorite place on earth was her beloved Lake Titus in the Adirondack Mountains of upstate New York. She spent summers at the family "camp," where she was third generation. Time at camp included hiking, swimming, and canoe/kayak adventures, along with board games and puzzles with family and friends by the fire after dinner. Chinese checkers and hearts were particular favorites of hers. Another constant throughout her life was Phyllis' love of and devotion to her cats and dogs and her deep level of care and concern for all wild things. But above all, Phyllis was devoted to her family. In addition to raising her daughter Allison, she became a surrogate mother to her two nephews, John and Andy Pickett, after their mother and her older sister, the late Judith Hyde Pickett, passed away in 1966. Her later years, after Norris' death, were spent traveling with Allison to places Phyllis always wanted to visit. Phyllis was a remarkable, kind, caring and inquisitive woman who will be dearly missed. Her family knows she is at peace and in the company of her beloved Norris, and several feline and canine angels.
 She is survived by her daughter Allison Howard of Stephentown, NY, her nephew John Pickett of Sudbury, MA, her nephew Andrew Pickett of Lincoln, MA, and her surrogate grandchildren, Kaitlin Pickett of Nice, France, and Alexander Pickett of Boston, MA. A private memorial service will be held this summer at St. John's in the Wilderness church in Paul Smith's NY, just south of Lake Titus. In lieu of flowers, donations can be made to the Berkshire Humane Society https://berkshirehumane.org/donate/ To share a memory of Phyllis, please visit https://parkerbrosmemorial.com.