Hoosick Falls – Lorraine Agnes Surdam, 89, passed away peacefully on Wednesday, January 27, 2021 at her residence on Wood Park Lane, surrounded by her family. She was the wife of the late Clifford Surdam who died in 2006.
Lorraine was born on September 5, 1931, in Bennington, VT, daughter of the late Leverett and Margaret Mae (Prentiss) LeBarron. She formerly worked at Union Carbide in Bennington, VT. Lorraine was a member of the Bennington V.F.W., Eagles, St. Stanislaw Society and American Legion, all in Hoosick Falls. She enjoyed going to the casino, playing cards, bowling and family gatherings.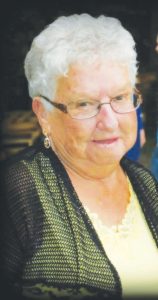 Survivors include her children Susan (Nicholas, predeceased) Sousie of West Hoosick, NY, Joanne (Warren) Godkin of Bennington,VT, Sandra (Dwayne) Metcalf of North Pownal, VT, Sharon (Donald) Barber of Bennington, VT, Richard (Linda) Surdam of Hoosick Falls, NY, sister Beverly (Robert) Cummings of Pownal, VT, also survived by twenty-five grandchildren, forty-two great- grandchildren, two great-great-grandchildren and several nieces, nephews and cousins. Lorraine is predeceased by an infant son Richard, grandchildren Justin Surdam, Jeremiah Carpenter, sister Marjorie Kramer, brothers Edward and Richard LeBarron.
Funeral services will be private and at the convenience of the family. Arrangements are under the care of the Mahar Funeral Home, 43 Main Street in Hoosick Falls, NY. Memorial contributions may be made to either the Rensselaer County Community Hospice, Second Chance Animal Shelter or the Karen & Molly McGovern Memorial Fund through the funeral home.