New Hartford, NY/ Stephentown – Elizabeth "Libby" Wheeler Hughes, 101 of New Hartford, passed away peacefully at Sitrin Health Care Center on February 8, 2021. Born October 22, 1919, in Stephentown, NY, first child of Thomas and Beatrice (Briggs) Wheeler.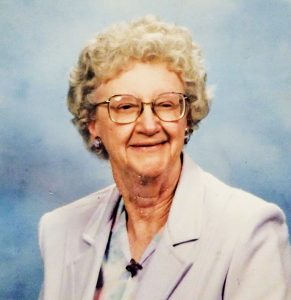 Libby graduated from a one room schoolhouse in Stephentown and went on at the age of 16 to attend SUNY Albany, obtaining a degree in teaching. Her first teaching assignment was in Canton, NY, where she met the love of her life, Elliot Hughes; the two were married on October 15, 1947 settling in New Hartford, NY where Libby taught business classes and was a guidance counselor until her retirement from the New York Mills School District. In 1949, they adopted 2 daughters Darlene (Hughes) Riley of Utica, NY, and Mary (Hughes) Hester of Birmingham, AL. In 1952, they were graced with a son, Reese Hughes of Texas. In 1951, they joined and were very active members of the United Methodist Church of New Hartford where Libby was a treasured member of the congregation serving many years as Treasurer until her passing. 
Upon retirement, Libby and Elliot would spend many winters in the Palm Harbor, Florida area and traveled extensively with the local Avion Travel Club. After Elliott's death in 1987, Libby purchased a motorhome and continued making the trip to Florida for many years with her traveling companion, Katie, her Siamese cat. 
One of her favorite things to do with Elliot was visiting nearby schools teaching about early American farming where she would demonstrate to children how to spin wool into yarn as well as show off an extensive collection of antiques of the era. Libby, highly revered by her family and friends, was a very active member of her community and Church. She will be missed by many that loved her dearly. 
She is predeceased by her loving devoted husband Elliot, parents Thomas and Beatrice, brother Thomas Wheeler, sisters Jane Wheeler, Doris Stone and Mary Locke, son Reese Hughes and daughter Mary Hester. 
Those left to cherish her memory are, daughter Darlene Riley, stepson Charles Cassel, grandchildren Christine (Bret) Snyder of Ocala Florida, Benjamin Hughes of Wilmington NC, and David Cassel, sister-in-law Lisa Wheeler of Stephentown NY, daughter-in-law Diane Hughes of Wilmington NC, she is also survived by her many great grandchildren, nieces and nephews and friends. 
Donations: Federated Church of Stephentown http://www.stephentownfederatedchurch.org/#
A Memorial Service will be conducted at a later date due to the current health situation. Online messages of sympathy may be left at: www.fwefh.com
Arrangements are in the care of Friedel, Williams & Edmunds Funeral and Cremation Services, New Hartford.