Stephentown – Virginia A. "Ginger" Phillips, 79, passed away peacefully on Friday, January 22, 2021. She was also affectionately known as "GG"  by her family and grandchildren. Born in North Adams, MA she is the daughter of the late Lewis and Edith (Haas) Scriven.
Ginger worked as an accounting clerk at the Watervliet Arsenal for 28 years and retired in 1992. She was an accomplished bowler, with a few perfect 300 games in her career. Ginger was named bowler of the week several times, bowled on the local TV Tournament Time with Howard Tupper, won many state-wide tournaments throughout her career and served as a coach to young bowlers for many years.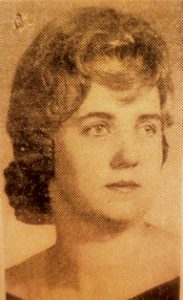 She loved a game of chance and enjoyed Bingo and traveling to casinos. Ginger was a past member of the Petersburgh Fire Department Ladies Auxiliary, the Poestenkill Seniors and an avid NASCAR fan, especially her beloved Tony Stewart.
Ginger is survived by her daughters, Kimberly (Michael Roderigue) Phillips and Tammy (Stephen) Whitman; her grandchildren, Patrick (Marissa Tremblay) Whitman, Jessica (James Forrest) Knuetter and Brittany Knuetter; her great-grandchildren, James and Noah Forrest, Zoey Knuetter and Molly and Maddison Knuetter; her sister, Linda (The late William) Sharper; and her beloved companion, Tom Phillips. She is also survived by many nieces, nephews and dear friends. Ginger was predeceased by her husband, Lynwood R. Phillips in 2005. 
Those wishing to remember Ginger in a special way can make memorial contributions in her name to the Stephentown Volunteer Fire Dept., 396 NYS Route 43, Stephentown, NY 12168 or The Mohawk Hudson Humane Society, 3 Oakland Ave, Menands, NY 12204.
Funeral services for Ginger will be private to the family due to COVID-19. To leave a message of condolence for the family online please visit ParkerBrosMemorial.com.