Grafton – Terry L. Wescott, 49, ("Bub" to his family), a lifelong resident of Grafton, died unexpectedly on Tuesday, January 19, 2021, at his residence following a long illness.
Born in Troy, October 8, 1971, Terry was the son of Chester "Chet" L. Wescott Jr. and the late Gail A. (Wagar) Wescott.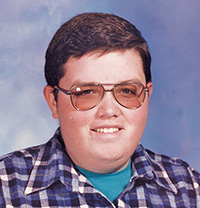 Terry attended the C.P. Center in Troy, where he earned a General Equivalency Diploma. He was also the first graduate of the program to earn a NYS driver's license after his dad taught him to drive his van.
For over 10 years, Terry was the founder and owner of Terry's Birdhouse Co., a custom wood working shop he operated from his home in Grafton. He designed and built custom birdhouses that he sold at many local and regional craft fairs and flea markets. When COVID-19 hit, his customers found him any way they could.
Terry liked to sit in the sunshine with his cats to warm up and enjoyed watching sports on his big screen television. He also loved watching his dad work. He helped every way he could. Among Terry's most favorite pastimes was enjoying the independence of driving his old van and his baby, the new van, which couldn't go down the road without stopping at the car wash.
Terry is survived by his father and stepmother, Chet L. Wescott and Vivian Cook of Grafton, his brother-in-law, Kirk VanOrman, a niece, Kimberly VanOrman, and two nephews, Justin and Bryan VanOrman. In addition to his mother, Terry was predeceased by his sister, the late Susan VanOrman.