Hoosick Falls – Dan S. Burt went to be with his Lord and Savior on January 9, 2021. He was born on July 2, 1945 to the late Laura (Lowell) and Harold in Troy, NY. He was predeceased by his wife of 43 years Sandra (Laderach), his brother Paul (Loretta), brother-in-law Frank Winslow.
Dan is survived by his brother Gene (Sharon) Burt of Fort Edward and his sister Eileen Winslow of Gansevoort and don't forget his sister-in-law Lori Wynatts who, without her weekly stops before continuing up the hill, along with the phone calls to check on him, which were always eagerly looked forward to.  His children Lynn Hemeon, of Troy, and Scott (Jenn) Burt of Hoosick Falls. His daily phone calls were a time of great enjoyment for him to tease his children!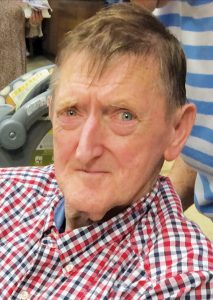 His Precious Grandchildren Stephanie Clausnitzer (his favorite Grandson-in-law Jess) oh wait, the one and only grandson-in-law, Shauna (soon to be grandson-in-law Dan Juliano), Kayla Hemeon, Jesse Thomas, Sebastian Burt, Zoe Thomas, Hailey Burt. The loves of his life his great-grandchildren – J.J., Addy and Jacob Clausnitzer also Kori and Eliana Juliano, Mason Hemeon and Emma Best Hemeon; Jericho Seidel also several nieces and nephews. Spur of the moment calls of "Hey Pa" coming in the door were met with great joy and impromptu meals – because you must be just a little hungry right? 
Dan leaves behind his fiancée, partner and best friend Joyce Grusaky, who with her children David and Daniel became added to the family. With David's friendship and unending devotion to helping Dan which allowed him to live at home for years longer than would have been possible otherwise. Dan wanted Dave to know how much he appreciated him giving so much of himself in order for this to happen. 
Dan started working in roofing with his father and brothers. He worked at various other jobs throughout his young adulthood including Johnson Control and Taconic Plastics. Being a true people person and chef, his most memorable work experience was when he and his wife owned and operated the Route 22 Restaurant in North Petersburgh with their extended family.  
Dan and his wife opened their hearts and home to all of their kids and grandchildren's friends, with a houseful most of the time, known throughout the neighborhood as Ma and Pa! With breakfast at 4 whether you were awake or not! Dan was always trying to help people get their minds off of their troubles for just a minute with a good laugh and he was well known for his joking around. 
Dan's doctors especially Dr. Maggio, Melanie Clark NP, and Dr. Altwerger – who without his willingness to think outside the box to "fix my feet" as Dan put it, he would not have been able to walk again after all of those years. Special thanks to his fantastic Dialysis team at SVMC for their unfailing support and compassion each and every day! Having so many exceptionally caring nurses both in the hospital and at home, especially Shannon Wehle, his Eddy Visiting nurse and also his "personal physical therapist" Michelle – his life was better with all of you in it! He looked forward to seeing you and appreciated all you did for him! 
Weekly breakfasts with Don Donisthorpe and spending time with his wonderful friends Joyce and Jim Morier making meals and playing games were treasured by Dan. Char and Charles Edson with the wonderful conversations they had with Dan. His church family especially Pastor Jonathan with all of their many prayers, cards and visits were so enjoyable throughout the years.
There will be a drive through condolence line on February 4 from 5 to 7 pm at Hoosick Falls Community Alliance Church 484 Hill Road, Hoosick Falls, NY with a small private service following. Then on Saturday, February 6 at 2 pm there will be a celebration of life service which will be live streamed. To maintain COVID safety, seating is limited and everyone in the church must wear a mask at all times and follow social distancing. To watch Dan's service log into www.hoosick
fallscac.org and proceed to livestream.
Dan's loved ones wish to express their gratitude for everyone's prayers, cards, calls, gifts of food and flowers. Thank you, they mean so much. If you have a favorite memory we would all love to hear of it! 
In lieu of flowers please consider making a donation in Dan's memory to the Hoosick Falls Rescue Squad. By becoming an organ donor Dan took great joy in knowing that he would help others to continue living. Dan always saw the good in people. With his big heart he was loved by so many. He asks all of you to be kind and remember to say hello to others, that small kindness just might make their day. His last request is to never say goodbye, it is always "see ya" for I'll see you soon!