Grafton – Beulah T. Baker, 91, passed away on Saturday January 9, 2021 thirty minutes short of her 92nd  birthday.  Born in Cohoes, she is the daughter of the late Joseph and Josephine Owens.
Beulah attended Keveny Academy and Cohoes High. As a teenager she worked for Golden Krust Bakery. In 1946 Beulah married William J. Baker and raised their 11 children together until William's untimely passing in 1964. She was a member of the VFW  Post #7466 Ladies Auxiliary as well as The Grafton Fire Dept Ladies Auxiliary.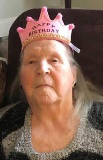 Beulah is survived by her children; William (Genelle) Baker Jr., Eileen Boomhower, Wayne (Paula) Baker, Peggy (Walter) Sass, Antoinette (Francis) LeBarron, Beulah (Charles) Saunders, Joan (Joseph) Fredericks and Ruth Cushman.  She is also survived by a host of grandchildren, great-grandchildren, great-great grandchildren, nieces, nephews and dear friends. Beulah was predeceased by her parents Joseph and Josephine Owens; her husband, William J. Baker; and her children, Patricia Blanchard, Edward Baker and Mary Dayhaw;  her brother, James Owens and sisters, Margaret Briere and Ruth Ceccucci. 
Those wishing to remember Beulah in a special way can make memorial contributions in her name to The Everett Wager Senior Center (Town of Grafton).
Due to Covid-19 restrictions Funeral services will be private to the family. To leave a message of condolence for the family online please visit ParkerBrosMemorial.com.