Harbinger, NC /Stephentown – Master Sergeant Vincent Stewart Devlin, USAF, Retired, 93, resident of Stephentown, for over 50 years and recently of Harbinger, North Carolina, passed away Thursday, November 26, 2020, at his home in North Carolina, surrounded by family.
Born in Pownal, Vermont on March 1, 1927, he was the son of the late Patrick John Devlin and Mable Olive Crosier Devlin. In addition to his parents, he was preceded in death by eight siblings. Mary, Helen, Barbara, Priscilla, Patrick, William, Henry and Theodore.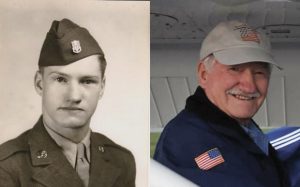 Vincent is survived by his wife of 67 years, Ruth Elizabeth (Krell) Devlin; one daughter, Linda (Allen) Sicley, Jr. of Worth, NY; two sons, Kenneth (Denise) Devlin of Orlando, FL and Chris (Cathy Humphries) Devlin of Harbinger, NC; seven grandchildren: Allen (Kimberly) Sicley, III, Greenville, NC; Rebecca (Lyle) Sicley-Stevens, Mannsville, NY; James (Colleen) Sicley, Ayden, NC; Melissa Sicley Anglemyer, Grimesland, NC; Michael Sicley, Rome, NY; Rachel (Kyle) Rover of Orlando FL; Christine (Lance) Vick of East Palo Alto, CA.; ten great-grandchildren: Allen IV, Adrianna and Hampton Sicley; Joshua, Cora and Mabel Sicley; Bridget and James Sicley; Bruce and Holly Anglemyer; one sister, Agnes Carpenter, Mims, FL; and cousins, nieces and nephews.
Vincent enlisted in the Army Air Corps Aviation Cadet Program in July, 1944 at the age of 17. He entered active duty in July of 1945. Vincent was processed for flight training and qualified for fighter pilot but the program was closed. After being stationed at bases in Mississippi, Illinois, Utah, California and finally, Hickam Field, Hawaii, Vincent was discharged in December of 1946. Vincent reenlisted in the United States Air Force in September 1949. During the Korean War, Vincent was stationed at Naha Airbase, Okinawa where he was assigned to the 26th Fighter Sqdn, 51st Fighter Wing working on F-80s. December, 1951, Vincent was assigned to Transient Alert at Mitchel AFB, NY. While stationed at Mitchel AFB, Vincent met his wife Ruth and they were married on June 14, 1953. In June 1960 Vincent was assigned to Elmendorf AFB, Alaska, maintaining C-124s. June 1964 Vincent was assigned to Transient Alert at Norton AFB, CA where, in March 1966, he became Field Maintenance NCOIC in charge of 17 shops and 3,000 personnel. June 1966 Vincent departed for Tan Son Nhut Air Base, Vietnam where he was assigned inspection section on C-123s. After returning from Vietnam in June 1967, Vincent arrived at Hulbert Field, FL where he was assigned NCOIC of the C-123 specialist shops with 87 personnel. Vincent retired effective Oct 1, 1968 a grade E7, Master Sergeant with a total of 21 years, 6 months and 3 days of service, having served in three separate wars.
Upon his retirement from the United States Air Force, Vincent and his family moved to Stephentown, where he was self-employed as a plumbing and electrical contractor. He was an active member of the Veterans of Stephentown, most recently serving as Vice President.
Vincent enjoyed spending time with his family, traveling, and loved telling his grandchildren and great-grandchildren, who loved him dearly, stories about his life, taking trips to show them where he was born and grew up, sharing his love of music (especially big band music) while listening to his various old vinyl records, teaching them Japanese, doing woodworking, gardening, picking berries, leaving all with many happy memories.
A funeral service with military honors was held on Tuesday, December 1, 2020 at Twiford Colony Chapel, Manteo, NC with Pastor Steve Siegrist officiating. A burial service will be held in Stephentown, New York at a later date once COVID-19 restrictions allow and at the convenience of the family.