West Hoosick- Chester "Bill" Pine, 89, a lifelong resident of the Town Hoosick, passed away Tuesday, November 24, 2020, at his residence following a short illness, with his loving family by his side.
   Born in Hoosick Falls March 27, 1931, Bill was the son of the late Lloyd and Jeanette (Hakes) Pine and, for over 65 years, the husband of Jacqueline "Jackie" (Lewis) Pine of West Hoosick, who survives. Bill and Jackie were married September 10, 1955, at the Gilead Lutheran Church in Brunswick.
  Bill was a 1948 graduate of the former Walter A.Wood Memorial High School and belonged to the FFA, 4-H, and the Hoosick Grange. In 1952, he enjoyed being a "Brother of the Brush" for the 125th year celebration of Hoosick Falls.
  On October 29, 1954, Bill enlisted in the United States Air Force and was stationed at Keesler Air Base in Mississippi and later at Tinker Air Base in Oklahoma. He was honorably discharged August 28, 1958, with the rank of Airman First Class.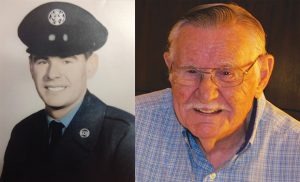 Upon returning home to Hoosick Falls he accepted a position as a production worker with the former Behr-Manning Manufacturing Company in Watervliet. Bill retired after 33 years of service and two owners, the former Norton Company and, currently Saint Gobain. After retiring, Bill worked as a limousine driver for the R&R Limo Company in Hoosick Falls as a way to stay active in the community. He enjoyed driving for many occasions and particularly for students at the Hoosac School. 
  Bill was a member of the West Hoosick Baptist Church for over 50 years. He was an avid NASCAR fan, attended many air shows and loved watching the tractor pulls at county fairs. He was a car buff and enjoyed working on cars throughout his life. More recently he enjoyed watching TV, listening to old time Country music and spending time with his family, especially his granddaughter, Shelby. He also enjoyed visiting with many new friends at the Rubin Dialysis Center in Troy, NY where he received treatments for the last 4 years.
  In addition to his wife Jackie, Bill is survived by two daughters and sons-in-law, Sharon and Dewey Harris of Hudson, NH, and Kimberly and Marhn Fullmer of Cary, NC, a granddaughter, Shelby Harris of Hudson, NH, six brothers and sisters, James and Sylvia Pine of San Diego, CA, Sandra and LaVerne Davis of Cambridge, NY, Brenda and Bob VanOlpen of Troy, Burton and Margaret Pine of West Hoosick, George and Alison Pine of West Hoosick, and Barbera and Tom Gunder of Austin, TX, two sisters-in-law, Marilene Hammond of Troy and Shirley Little of Chestertown, NY, and many nieces and nephews. In addition to his parents, he was predeceased by brothers and sisters-in-law, the late John "Jack" Lewis, Helen Brust, William Lewis, Hazel Bentley,  Arlayne Smith, Milton Lewis, and Jean Sliter.
  A funeral service for Bill was held Saturday, November 28, 2020 at the West Hoosick Baptist Church with Rev. J.D. Milton officiating. Burial followed in the West Hoosick Cemetery with military honors. 
   Memorial contributions may be made to the West Hoosick Baptist Church, 1349 Buskirk-W. Hoosick Rd., Buskirk, NY 12028 or the Town of Hoosick Rescue Squad, 21 1st St., Hoosick Falls, NY 12090 in memory of Chester "Bill" Pine.
  Funeral service details were under the direction of the Howard B. Tate & Son Funeral Home in Raymertown, NY.