Hoosick Falls, NY – Valerie died peacefully amongst family, August 17 at the Southern Vermont Medical Center. She was loved by many but especially beloved by her family who were with her until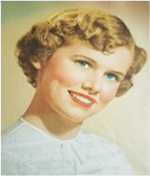 the end. Her children are forever grateful for the loving care provided by the nurses and entire staff at Southern Vermont Medical Center; words cannot convey the service graciously given by these heroes among us.
Born in Brooklyn, she grew up in Laurelton, NY, the daughter of Margaret Mooney English and Frederick H. English. She attended the Mary Louis Academy in Jamaica, NY and the Woods Secretarial School in NYC. She worked for a Publishing Company until her marriage in 1955 to Cadet Donald J. Sutton of Findlay Ohio, at the Military Academy at West Point.
As a military wife (Air Force), she was the heart of the family, creating a home after each move. Valerie lived in many states throughout the country before settling in Colorado Springs where her husband taught classes at the Air Force Academy. After leaving the service, the family moved to Hoosick Falls, Valerie's home for over 55 years.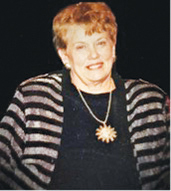 In the early 70's, Valerie became a real estate agent and then a broker, running Valerie Sutton Real Estate at 42 Church Street in Hoosick Falls until her retirement in 2005. She was proud to help many first-time home buyers join the community. Working in town gave her opportunities to keep in touch with friends and participate in town events, parades, etc.  She was actively involved in her children's upbringing and was passionate about their involvement in music, art, 4-H and sports. She volunteered as a girl scout leader, a faith formation teacher and she chaperoned many children's activities. She was a Past President of the local PTA and remained an active member of her community and her church, where she became a Eucharistic minister. She was very grateful for Father Tom Zelker in her life and in our community.
Valerie will be missed and remembered for her sense of humor, strong will and zest for life.
Valerie is survived by her children: Lynn P. Sutton, Jim Sutton (Ruth), Cynthia A. Brewster (Michael) and David A. Sutton (Amy). 
Her grandchildren James, Caitlin, Christiana, Stephen, Stefani, Taylor, Michael, Matthew, Connor, Zachary, Levi and Summer. Great-grandchildren Maya and Kai. Sister Barbara E. Doyle. 
She was predeceased by her parents, her young daughter Leslie S. Sutton and her brother Frederick H. English Jr.
A funeral mass will be held in her name at a future date to be announced.
In lieu of flowers, contributions can be sent to the
Immaculate Conception Parish
67 Main St.
Hoosick Falls, NY. 12090
* please mark renovation on memo line of check.