Bay Pines, FL/New Lebanon, NY – William J. Schell, age 103, died June 25, 2020 at Bay Pines Veterans Hospital, Bay Pines, Florida after 6 days of battling COVID-19 pneumonia. He was born in New Lebanon, NY, one of 9 children. He owned and operated Schell's General Store for over 50 years. His father worked for the Tilden Pharmaceutical Company.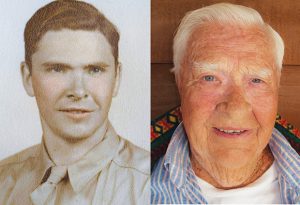 William J. Schell is survived by his daughter Dr. Catherine L. Schell and her husband Dr. Richard Rathe; foster daughter Gale Hendrickson and her husband Mel and their children and grandchildren; son-in-law Rick Hindman; niece Dorothy Marcus, niece's sister's children Mike Williams, and Tina Triola; nieces Rosemary Schell; Lynne (Schell) Corfield; Anne Luttrell; Pat Schell; Jennifer Wyatt; Patty Anne Schell; Barbara (Schell) Rowan and husband with their two children, Mike and Mat Rowan. His wife Carol and his daughter Elizabeth preceded his death.
William J. Schell (Bub or Bud) graduated from New Lebanon Central School on June 14, 1935, with a prize for 12 years of perfect attendance. He was active in baseball club throughout his school years and continued to play in a minor league. He served in World War II as part of the United States Army Air Corps from April 18,1941 to December 1945 (S- SGT-AAF1252). After severe injuries that landed him in several Army hospitals, he returned to duty to serve until the war's end. He served as a flight engineer, an airplane mechanic, and later as an airplane inspector. The Army Air Corps awarded him recognition medals for Outstanding Good Conduct, American Defense Service, WWII Victory and European- African-Middle East Service. After the war he returned home to work at General Electric in Pittsfield, Massachusetts. There he met his wife Carol Richards of Dalton, MA. He attended Hudson Valley Tech on the GI bill and with this education they started their own heating and air business that grew to include a general store. Their store became a center of social networking for many in the surrounding communities. It also became a place for summer employment for students from Lebanon, Berlin and other area schools. Not only did Mr. Schell run a successful store and heating business, he also bought the enormous junk yard of nearby East Nassau, NY. With his own finances and vision, he turned this town's junk yard into a beautiful park and campground called Timber-Vale. He and Carol operated the park for twenty years featuring fishing, swimming, picnicking and walks along Kinderhook Creek.
About the age of 75 Mr. Schell and his wife Carol retired after selling their businesses and moved to their winter home in St. Pete Beach, Florida to be near Carol's sister. Mr. Schell became active in an investment club and enjoyed many days of fishing and boating in the Gulf of Mexico. Bud will always be a part of Lebanon's heart and history. Since he missed seeing the autumn colors of upstate NY, the family hopes to have a public burial service at the Cemetery of the Evergreens by Fall.