New York, NY – Helen Catherine Daae Roosevelt, née Sparrow, died peacefully due to COVID – 19 complications on May 25, 2020 in New York City. Daughter of Edward Grant Sparrow and Catherine Groth Sparrow, she was born in Paris, France on November 6, 1927 and spent her first 12 years there. In addition to being a relaxed, generous, and innovative hostess through the years, she was a lifelong patron of the arts, defender of animals and strays, and an accomplished equestrienne.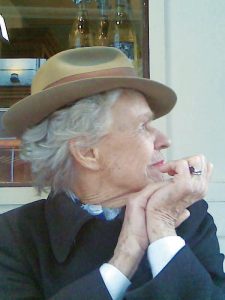 In the early 1990's Helen established a second home on Green Hollow Road in Berlin, NY, where she loved to spend time with the friends and neighbors who had welcomed her so warmly to the community. She was never happier than when walking with her dogs in the fields, pastures and woods.
Whether single-handedly fending off snakes on a family camping trip in Michigan, taking on the management of Thornapple Farm in her 60's, or remarrying at 73, her intrepid spirit was an example to those around her. Helen's optimism, equanimity, fortitude and discretion inspired all those who met her, and leave those who loved her with an enduring legacy.
Helen is survived by her children Robert, Andrew, and Cordelia; her grandchildren Eloïse and Archibald; and her stepchildren Elizabeth, Frances and Milo. She was predeceased by John Ellis Roosevelt, father of Robert, Andrew, and Cordelia; and by William Bright Jones. 
In lieu of flowers, donations may be sent to: https://cornellleukemia.com/leukemia-fighters/