Kalama, WA – Patricia Caverly Kjeldgaard, age 67, died in her home in on April 30th after more  than 2 years dealing with melanoma. She was born in December 1952 in Mount Vernon, NY to Mary and Joseph Caverly. She was a passionate educator who cared deeply about her students and community, a talented gardener, and a dedicated wife and mother.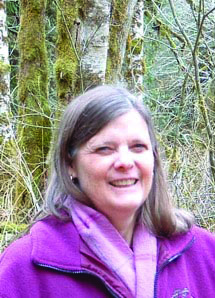 She lived most of her early years in Rochester, New York where she attended grade school and East High School. Her family moved to California after her 11th grade and she graduated from high school in San Rafael, CA. She attended San Jose State University, where she received a degree in Environmental Studies. She stayed an additional year to receive a teaching credential.
She met her future husband, Loren Kjeldgaard, during her first year at San Jose State. They were married in 1973, between her junior and senior years. They moved often during the first years of their marriage and were able to see much of the west. They lived in Rock Springs WY, Albuquerque NM, Moab UT, Duchesne UT, Willows CA, and Basalt CO. They moved to Selah WA in 1992.
Patricia began her career as a science teacher at a private school in Los Altos, California. In Colorado, she began teaching English as a Second Language, and she continued to teach ESL students in the Yakima WA School District. She earned a Master's Degree in TESOL at Heritage University in Toppenish WA. At the end of her career, she returned to the regular classroom, teaching 5th grade at McClure Elementary in Yakima until her retirement in 2014.
She is survived by her husband, Loren Kjeldgaard, of Kalama WA, their daughter, Marie Kjeldgaard, of Kirkland WA, their son, Jeffrey Kjeldgaard, of Kent WA and Crestline CA, her father, Joseph Caverly, of Petersburgh NY and Bennington VT, her sister, Joan Buzerak, of Petersburgh NY, and her brothers, Robert Caverly of Newcastle CA and Ketchikan AL, and James Caverly of Duck NC. She is preceded in death by her mother, Mary Alice Caverly.
In lieu of flowers, a donation to the charity of your choice would be appreciated. Patricia supported many charities, including The Nature Conservancy, the Southern Poverty Law Center and The Carter Center. 
A celebration of her life will be held at a future date.