Stephentown – Mary J. Kiley Gorman, 86, died Friday, January 31, 2020 at the Samaritan Hospital in Troy, NY.  Born in North Adams, MA on May 24, 1933, she was the daughter of the late James M. and Mary C. Maloney Kiley.
   Mary was raised in North Adams and was a graduate of St. Joseph's High School in North Adams.  She later moved to Springfield, MA and attended Our Lady of the Elms College in Chicopee, MA.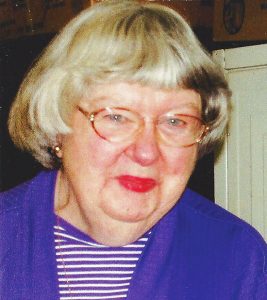 She was employed as a children's librarian at the Forest Park branch of the City of Springfield Library for 6 years.  After her daughter Martha started school, she volunteered at the school library and helped children learn to read for over 25 years.
   In 1997, she moved to Stephentown, NY with her husband Robert and built a log cabin.  She was so happy that she moved to Stephentown and made so many wonderful friends.  She was a member of the Stephentown Historical Society, Stephentown Veterans, volunteered at the Stephentown Library and was a communicant of St. Joseph's Church.
   Mary enjoyed camping, knitting, quilting, crafts and was an avid reader.
   She was the wife of Robert Edward Gorman, a wonderful gentleman who died in 2017; loving mother of Martha Joyce Gorman of Menands; godmother of Mary Cronin of Charlestown, RI, Guy Patenaude of Stafford Springs, CT and Pamela Backli of Dalton, MA; dear friend of Marilyn Abare of Winchendon, MA, Rev. Francis Kennedy of Westfield, MA, Joyce Griffin of Liberty, SC, Bev and Rik McClave and Mary and John Linton, all of Stephentown, and the late Joyce Doyle of Springfield, MA.
   Relatives and friends called at the Hall & Higgins Funeral Home in Stephentown, on Wednesday, February 5 prior to the funeral Mass, held at 11 am at St. Joseph's Church, Stephentown.  Interment followed in Bellevue Cemetery, Adams, MA.
In lieu of flowers, contributions may be made to the Stephentown Memorial Library Children's Room, 472 NY 43, Stephentown, NY  12168 or to the Stephentown Volunteer Fire Department, PO Box 208, Stephentown, NY  12168.
   Condolence book at ParkerBrosMemorial.com.