Grafton – On January 5, 2020 our Heavenly Father reached down from heaven taking Mohegan Tribal member, William Quidgeon, Sr., age 80, by the hand leading him to his eternal heavenly home, where he was greeted by his grandchildren and many other loved ones waiting for him.
William was born on January 24, 1939 in Pittstown, NY to the late Earl Winslow Quidgeon, Sr. and Gladys Mary Jane Haas.  He is the beloved husband of 60 years of Doris E. Snyder Quidgeon.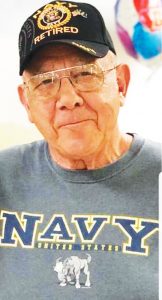 He was a child of thirteen.  He was predeceased by his brothers Lawrence, John, Chuck, Earl, Ernest, Robert and Harold.  He was also predeceased by his loving grandchildren, William T. Quidgeon and Rebecca Ann Jones and his great-grandchildren, Isabelle and Enola Gaillard.
Due to his parents passing at a young age, William developed an amazing friendship taking on a second family with the late William Henry and Eudella O'Dell.  He was predeceased by sisters, Dawn and Lucy and his best friend and brother, Rev. William O'Dell.
Survivors in addition to his wife Doris include his son, William (Elizabeth) Quidgeon of Uncasville, CT; daughters, Cindy (Robert) Colantonio of Petersburgh, NY, Kim (Paul) Jones of Rindge, NH and Stacy (Charles) Baker of Hoosick Falls, NY.
In addition to his children, he is survived by his beautiful, loving 11 grandchildren, 18 great-grandchildren and his brothers, Donald, Joseph, Jerry and Theron; and his sisters, Isabel, Winifred, Gertrude and Mary.
He was so proud of his heritage and being an Elder of the Mohegan Tribe.  His life was his family and Mohegan bloodline.   
William proudly served in the United States Navy for over 30 years retiring as a Chief Petty Officer.  He then worked with his best friend as a carpenter.  He finished his years of work at Hoosac School as head of maintenance.
He enjoyed his retirement, reading the Daily Bread, fishing with his sons-in-law, watching the grandkids succeed with school and sports, being a handy man and spending time with the love of his life, his wife Doris.
A special thank you to the Grafton Rescue Squad and ALS for all you did.  Special thanks to the Samaritan Hospital ER.
Calling hours will be Saturday, January 11 from 12-2 pm at the Grafton Baptist Church followed by a service at 2 pm led by his nephew, Keith Smith.  Military Honors will follow the service and a Celebration of his life will follow at the Grafton VFW.  The burial of ashes will occur at a later date at the Fort Shantok Cemetery, Uncasville, CT.
In lieu of flowers at the family's request, all donations can be made to the Grafton Baptist Church, PO Box 11, Grafton, NY 12082 or to the Grafton Rescue Squad, PO Box 2, Grafton, NY  12082.
Arrangements are by the Thomas M. Barber Funeral Home in Petersburgh.
Condolence book at ParkerBrosMemorial.com.  
William Quidgeon Sr.