Petersburgh – Cynthia Nance Peterson of Petersburgh, NY died June 16, 2019 at Brookdale Fillmore Pond, an assisted living  facility in Bennington, VT, after a long battle with cancer. Cynthia was born March  6, 1937 in New Rochelle, NY.  Her family moved to Riverside, CT in 1942. She attended Riverside School and Greenwich Academy and was a graduate of Greenwich High School in 1954.  She attended Brown University while also studying at Rhode Island School of Design .She was a 1958 graduate of Brown. While in college she went to Grenoble, France one summer with The Experiment in International Living as well as  to Japan for another summer of study.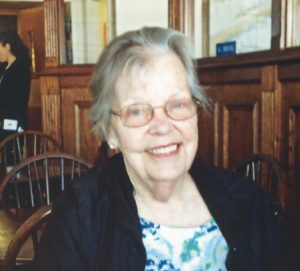 Cynthia  went  to Yale Architectural  School while she also worked in the architectural field in New Haven, CT and graduated in 1965. Among  her jobs while studying at Yale was working on projects with the noted architect Paul Rudolph.  After Yale, she then went to NYC where she worked for the firm of Davis Brody. While there she worked on design plans for a University of Buffalo renovation among her many projects.  Leaving Davis Brody, Cynthia was then a professor of architecture at City College in NYC, a position which she held until she retired to her vacation home in Petersburgh, NY in 1992.
For 27 years she had a very full life in Petersburgh filled with hobbies and activities with her many friends.  In her retirement she served as an architect consultant for the rebuilding of a portion of the public library in Petersburgh and for awhile was a rural mail carrier and even a ski instructor at Jiminy Peak. She involved herself in the community with yoga, knitting and pottery classes and attended many cultural events in the area. Cynthia enjoyed the last five months of her life at Brookdale in the company of her beloved cat Charrette who was later adopted by one of her caregivers.
Cynthia donated her body to Albany Medical College for cancer research. She is predeceased by a brother Eric Peterson of San Diego, CA. Surviving  her are a sister Diana Muzzarelli of La Jolla, CA, a brother Geoffrey Peterson and wife Donna of Norwalk, CT and a niece and five nephews. 
A private burial service will be held at Putnam Cemetery in Greenwich, CT at a date to be determined. Memorial donations may be made to the American Cancer Society or Albany Medical College.