Philadelphia, NY – Rita Jones, 97 of Hall Road died Wednesday July 17, 2019 at Carthage Center in Carthage, NY where she had briefly resided. Rita was born on July 22, 1921 in Hoosick Falls, NY to the late Austin Isaiah and the late Martha Frey Saxby. She graduated from Berlin Central High School, Berlin NY in the early 1940s and the Samaritan Hospital Nursing School, Troy, NY in the mid-1940s.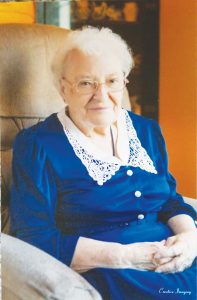 She married George Schaefer in July 1943 in Berlin, NY. He died in 1954. In June of 1961 she married Gordon Jones in Petersburgh, NY. Mr. Jones died in 1997.
Rita became the School Nurse for the Hoosick Falls Central School, Hoosick Falls, NY in the early 1960s, retiring after approximately 20 years.
She was a member of the First Baptist Church, Hoosick Falls, NY and later attended the Fellowship Baptist Church, Watertown, NY.
Rita enjoyed camping with her family and traveling, including a trip to Europe. She also liked to knit and sew. 
Survivors include three sons and their wives, George and Sandra Schaefer, Riverview, Fl, Robert and Carol Schaefer, Philadelphia, NY and Bruce and Trini Schaefer, Melbourne, Fl; seven grandchildren; eleven great-grandchildren; and one great-great- grandchild.
There are no services planned at this time. Arrangements are under the direction of Frederick Bros. Funeral Home, Theresa, NY.
Condolences may be made at www.frederickbrosfuneralhome.com