Eagle Bridge – Harold James Church, a resident of State Route 22, passed away May 28, 2019 at Albany Medical Center. Harold was born in Shaftsbury Hollow, VT the son of Arthur and Julia Pierce Church. He attended school in Shaftsbury and North Bennington, graduating from North Bennington High School. He spent many years farming then working at the Tissue Mill in North Bennington and retired from Cambridge Central School where he worked as a custodian.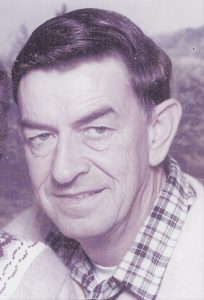 Harold loved to tinker on most anything including motors, trucks and chain saws. He loved sawing and splitting wood. Harold was also well known for wearing his wild hats. He was a huge Willie Nelson fan, loved anything pertaining to John Deere and trains. He was looking forward to the arrival of his new great-grandson Riley who will be born in August. Harold cherished times spent with his family, especially his grandchildren. He loved the outdoors, especially the time he spent in Shaftsbury Hollow. Harold enjoyed the many trips to McDonald's and Burger King with his travel partner Buddy. He loved making daily trips to his favorite diner (Jean's Place) where he was pampered by Kelly, Kevin, Robin and staff. He had what he referred to as Dineritus. Harold enjoyed his Friday get togethers for breakfast with his favorite sister-in-law Debbie and had his Sunday breakfast routine at the Falls Diner to see Nikki and Angie.
He is survived by the love of his life Joyce E. Percey Church of Eagle Bridge whom he married May 31, 1981, daughter Jean Timmerman and her significant other Rob Caudill of Center Cambridge, granddaughter Amanda Jacobs and her husband Ryan and great-granddaughter Haley Mae Jacobs, all of New Berlin, NY, special sister-in-law Deborah Matte of Bennington, dear friend Jeff Moses of Easton, NY and brothers Robert Church and his wife Betty of Bennington and Carroll Church and his wife Jean also of Bennington. He was preceded in death by two sisters, Mary who died in infancy and Marjorie Stevens.
At Harold's request there will be no services. A private gathering will be held at the convenience of the family. If friends desire, memorial gifts in Harold's memory may be made to the Bennington College Student Gift Fund, c/o Hanson-Walbridge & Shea Funeral Home, P.O. Box 957 Bennington, VT 05201. 
To send the family personal condolences, please visit www.sheafuneralhomes.com.
The family has entrusted arrangements to the care of Hanson-Walbridge & Shea Funeral Home 213 West Main Street Bennington, VT.