Hoosick Falls – Evelyn Capano LaPorte, a longtime resident of Hoosick Falls, NY and most recently residing at River's Edge Community Care Home in Bennington, VT, passed away peacefully on May 20, 2019. She was born on August 26, 1925 in Hoosick Falls, NY. Evelyn married her husband, Edward F. LaPorte, on April 26, 1952. They had 63 wonderful years together. Edward passed away on November 14, 2015. 
Her parents Mary (Liporace) and Daniel Capano, siblings Lena Sargood, Anne Pappas, John Capano and Joseph Capano predeceased her. Surviving family includes daughters Mary Jayne (Scott) Farber, Wendy (Robert) Petitt, grandchildren Julie (Richard) Weidman, Christopher (Erin) Maroney-Petitt, Curtis Edward Petitt, and step-grandchildren Jordan (Lauren) Farber, Nicholas (Emily) Farber, step-great-grandchildren Ramsey and Jack Farber, sister Mary Jane Comanzo and many nieces and nephews.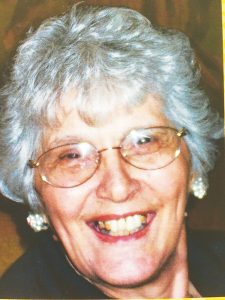 Evelyn graduated from Hoosick Falls High School in 1942 at age 16 and attended Troy Business College. Her past employers included the Calasta Company and the Hoosick Falls Health Center. She was a devoted communicant of the Immaculate Conception Church, a member of the Hoosick Falls Health Center Auxiliary and volunteer at St. Mary's Academy. 
Like her mother, Evelyn was well known for her delicious Italian dinners and feeding her family. Whether it was a planned holiday celebration or family dropping in unexpectedly, there was always something simmering on the stove or leftovers in the refrigerator. She enjoyed helping in the family grocery store, working in her yard, and visiting with family, neighbors and friends on her front porch. She had a special way of making friends everywhere she went and a smile that could light up a room. 
First and foremost, Evelyn was a dedicated wife, mother and grandmother. She treasured her family embracing every moment with them. Being " Nana" to her grandchildren was the greatest love of her life. Nana will be remembered for being the most generous to her three grandchildren, giving them the best memories and teaching them valuable lessons to live by; always wash your hands, wear your undershirt, bring your jacket, if you sneeze drink your orange juice, and always look after family. Evelyn will be missed every day and will remain in our hearts forever. 
The family wishes to thank the staff at River's Edge Community Care Home for the wonderful, compassionate, environment they provided and Allen Hutcheson, MD, for his outstanding medical and supportive care. 
A celebration of the lives of Evelyn and Edward LaPorte will be held on Friday, June 7 from 3 to 5 pm at the Mahar Funeral Home, 43 Main Street, Hoosick Falls, NY. A private, family service will take place at the Saratoga National Cemetery in Schuylerville, NY. In lieu of flowers, memorial contributions in honor of Evelyn can be made to HACA Food Pantry or the Hoosick Falls Fire Department through the funeral home.