Hoosick Falls – Eldon LaRue Ford, 84, died in his daughter's home in Leoma, Tennessee on March 29, 2019. He was born October 28, 1934 in Hutchinson, Minnesota, the fifth son of Orpha and Paul Ford  of  Lancaster,  Massachusetts.  He  attended  Browning  Memorial  Elementary  School  and South Lancaster Academy through his junior year. In the spring of 1952 his family purchased the Philpot farm on Fog Hill Road (nowknow as Ford's Road) in Southwest Hoosick. At the age of seventeen Eldon began his life's career on a 200 acre dairy farmer."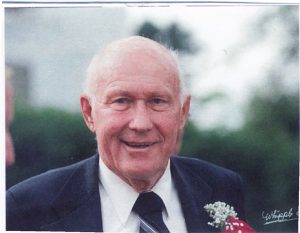 "Eldon  finished his senior year  of high  school by  correspondence,  and  then  returned  to South  Lancaster, Massachusetts  to  graduate  with  his  class.   When  he  returned to  his farm, he found his barn had burned  down,  taking  a  cow  and  her  calf  with  it.   He built a new barn and worked alone until June 17, 1956 when he married Miriam Buck, daughter of Henry and Mildred Buck – a country girl, of Troy, NY. They had been married nearly 63 years.
"In 1977 the  couple left for western NY where  Eldon began an agriculture program for Union Springs Academy on Cayuga Lake.  Their son Gary (age 19) was left with 3 siblings that first summer, to operate the family farm. Then he was left  for the next three and a half years to operate the farm alone.  At the Academy Eldon found "the perfect farm girl" and brought her to Hoosick Falls to meet his son.  The spark lit and Gary married Terry on July 16, 1978.
"Eldon was an elder in the Seventh-day Adventist Church for many years. Besides being a farmer, he was a builder, plumber, electrician  and  a  man  of many talents.  He  was  a  faithful, happy, devoted family man, who loved his family, his friends, community and his God."
Eldon leaves his wife  Miriam, and their  children:  Dale and wife  Linda  of Argyle NY; Gary and wife Terry of Newport NY;  Sheryl and husband Lyle Wright of Leoma TN;  Lanette and  husband  Leonard  Wright  of  St  Johnsbury  VT  and  Julie  of  Fletcher,  NC.    Also  17 grandchildren and 16 great-grandchildren.  He leaves his three brothers Dwain, Cleo, Glee and four sisters-in law; Carole, Lorrain, Beulah, and Janice.
Predeceased are Eldon's oldest brother Wendell and youngest brother Gary, three sisters- in-law: Martha (Cleo's wife), Marilyn, and Julia (Glee's wives).
A Memorial Service for Eldon Ford will be held onSunday, June 9 at 10am at the Seventh-day Adventist Church, Houghton Lane, Bennington VT.
At 9:30 am  a Musical Piano Prelude of Eldon's Beloved Music will be played by Shelly Mowyer.
The Family invites all in attendance to join them in a meal at 12 Noon in the Church Fellowship Hall.
 In lieu of flowers, donations may be sent to the West Hoosick Fire Department.