Petersburgh – Oswald Byron Hodges, 94 years old, passed peacefully on March 1, 2019.He was born in Berlin, NY on July 6, 1924 and was the son of the late Otis L. and Goldie Mae Hodges. He is survived by his wife of 76 years, Alice J. Hodges whom he married on January 3, 1943.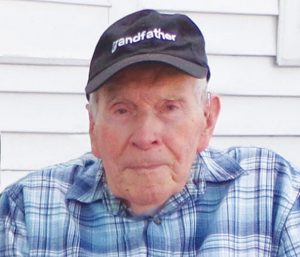 Byron was educated and resided in the Berlin area until 1967 when he and his wife purchased land and built a home in Petersburgh where they resided for 50 years. He worked for many years as a Teamster and retired from Rifenburg Construction of Troy. Byron was a very active member of the Petersburgh Baptist Church. He enjoyed spending time in the summers at the family camp on Dyken Pond in Berlin, NY.
Besides his wife, Byron is survived by his children; Barbara (Ray) Joyce of Rhinebeck, NY, Stephen (Sharon) Hodges of Petersburgh, and Philip (Laurie) Hodges of Petersburgh; grandchildren; Richard Johnson II, Colleen Dorval, Paul Hodges, Amanda Reding, Katie Dastoli, Tabitha Lajeunesse and Ariel Gilbert, along with many great-grandchildren and great-great grandchildren, nieces and nephews. Byron was predeceased by his brother Otis L. Hodges, Jr. and sister Etta Lemere.
Services will be held on Friday, March 8, 2019 at the Petersburgh Baptist Church. Calling hours before the service from 10 to11 am at the church with the service taking place at 11 am. Interment at Meadowlawn Cemetery, Hewitt Road, Petersburgh. Arrangements are being handled by Thomas M. Barber Funeral Home, Petersburgh, NY.
In lieu of flowers, memorial contributions may be made to Petersburgh Rescue Ambulance Squad. Inc., P.O. Box 164, Petersburgh, NY 12138, or the Petersburg Baptist Church, through the funeral home. Condolence book at parkerbrosmemorial.com