Hoosick Falls – Having lived in Hoosick Falls most of her life, Norma Andrew O'Brien age 92, joined her beloved husband Bill in Heaven on March 7, 2019. She had never fully recovered from a debilitating stroke that she suffered in 2009, and struggled with the subsequent onset of Alzheimer's disease. Norma previously lived on Richmond Avenue, where she kept a lovely home and raised her four children with the help of her husband of 59 years William J. O'Brien Jr. They lived a blessed life, totally devoted to their children, each other and to God.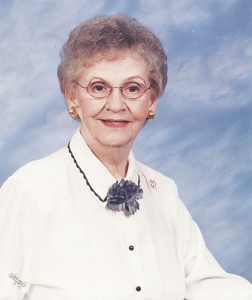 Norma was born June 29, 1926 in Troy, daughter of the late Caroline (Hewitt) and Ralph Andrew. She worked at the Undergarment in Hoosick Falls, before marrying Bill on May 17, 1944, during his short furlough from World War II.  After raising their children, Norma worked for 25 years at Oak Materials Group. She was active in the community as a communicant of the Immaculate Conception Church, serving as Queen Mother of the Red Hats Society, Home Bureau, Grange, Ladies Auxiliary, American Legion Auxiliary, and working the polls during elections.
Norma loved every day together with her husband Bill and enjoyed golfing, dancing, bowling, playing bridge, and hosting dinner parties with dear friends.  Among her creative talents were painting on barn boards and oil painting, baking, gardening, crafts and sewing. She handmade her clothes and several costumes, particularly memorable was Mr. and Mrs. Uncle Sam, which she and Bill wore when marching in the July 4th and Memorial Day parades. Norma had a vibrant, colorful presence and will be remembered mostly for her sense of humor, her warm spirit, love of life, determination and grit. She touched many lives with her kindness, encouragement, and beautiful spirit and will be sorely missed.   
Norma is predeceased by her husband William, sister Olive, brother Emerson, and son Edward. Survivors include son Paul O'Brien and wife Karen of Saratoga Springs, NY; daughter Monica Wilson and husband Richard of Castleton, NY; and daughter Marcie Arnold and husband Gregory of Woodbridge, VA. She is also survived by 11 wonderful grandchildren, 10 great-grandchildren, and several nieces and nephews 
Calling hours are offered at 11 am to 1 pm on Friday March 15 at the First Baptist Church at 80 Main Street, Hoosick Falls. This is the church that Norma attended in her early years. Funeral services at the church will immediately follow calling hours. Burial at St. Mary's Cemetery will follow, where she will rest at the side of her husband. 
The family wishes to thank the excellent, compassionate staff at the Center for Nursing & Rehabilitation, formerly the Hoosick Falls Health Center, for its tireless professionalism and care that was provided to Norma during her residency. Sincere gratitude also to several dedicated friends who kept Norma in their hearts during her final years. 
In lieu of flowers, the family suggests that donations be made in Norma's name to the Center. Donations can be made online at www.nursingandrehab.org/donate.