Williamstown, MA. – Rae Eastman, 91, passed away on Saturday January 5 after a brief illness.
She was born in Huntington, NY in 1927, the first-born child of Helen and Raymond Everitt. The family lived in England for a year when Rae was a toddler, and when they returned, her father took a job as a Senior Editor at the publishing firm Little Brown, and the family settled in Ipswich MA. Rae graduated from Ipswich High in 1943, and from Vassar College in 1946.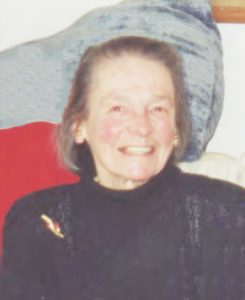 After graduating from college, Rae moved to New York City and took a job as a literary agent for MCA. In New York she became friends with Jack Kerouac, Alan Ginsburg and their circle of friends. She was familiar with many of the literary figures on the New York scene at the time.
She married the novelist and New Yorker writer John Brooks in 1952. Their first child was born in 1954, and she spent the next sixteen years raising her two children. She was a joyful wife and mother, living on Barrow Street in the West Village and spending summers in Sag Harbor, NY. She enjoyed playing tennis and gathering for evening cookouts on the beach, and attending and hosting cocktail parties both in the Hamptons and in New York City. Her marriage to John Brooks ended in 1970.
In the late 1960s she began working on compiling an information and referral database of services available to the needy in New York City. She began keeping this information on rolodexes, and eventually was hired by New York City to expand and computerize the information. The man hired to program the computer database for the project, Dan Eastman, became her second husband in 1975. They lived on Broome Street in SoHo, and later moved to West Cornwall, Connecticut. After working together on the database project for nearly a decade, she and Dan left the City and began an ambitious renovation of their riverfront home in West Cornwall, and their home became a gathering place for their circle of friends there. Rae enjoyed hosting outdoor lunches on their deck overlooking the Housatonic River. Her marriage to Dan Eastman ended in 1985.
She lived in West Cornwall and Lakeville Connecticut until 2010, working as a free-lance arts administrator and later as the director of a senior center. She has lived in Williamstown, MA since then.
Rae was a lifelong reader. She loved books and had a vast knowledge of writers and writing, and she enjoyed telling stories of the writers she had known. She did a little bit of writing herself also, contributing travel pieces to the the New York Times, writing the introductions for her classical music radio show, a few short memoirs, and she even worked briefly as a reporter for the local weekly newspaper in Connecticut.
Rae was an accomplished piano player. She spent six months preparing a recital program in 1961 and performed it at Greenwich Music School. Even in her 80s when she was living in Williamstown, her annual carol sing, at which she played the piano, was a well-known local event.
She leaves her daughter Carolyn Brooks, her son Alex Brooks and her four grandchildren Sofie Brooks, Cal Brooks, Dylan Gasperik, and Lucas Gasperik, as well as her daughter-in-law Beth Goodman and her good friend and fellow Grandma Carol Goodman. She was pre-deceased by two brothers, Cheeb and Sambo Everitt, and her sister Jeanne Richardson.
A memorial service is planned for Sunday January 20 at 3 pm at the First Congregational Church in Williamstown, MA.
In lieu of flowers, memorial contributions may be made to the Friends of the Milne Public Library, where she spent so much of her time in her last few years. The address is 1095 Main Street, Williamstown MA 01267.